Thank you for deciding to become a 1000 dreams investor. Your investment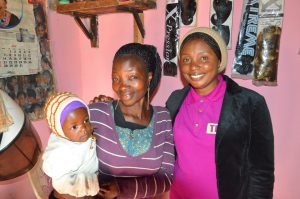 in the first 1000 days is one of the best development decisions you can make. By sponsoring at £10 per month for 33 months (1000 months) you provide support for a Mother Buddy (such as Elisabeth pictured) to make up to 10 visits on their clients during this critical period, to provide practical, emotional and spiritual support, including the following:
* Help to get to min of 4 antenatal care visits during pregnancy
* Support to give birth in a clinic facility with a professional in attendance
* Assistance with check ups to ensure mum and baby thrive
* Nutritional education and support (breastfeeding, weaning) to ensure a healthy balanced diet for the infant
* Access to family planning counselling.
All helping to reduce maternal and infant mortality and improve quality of life! Please set up your sponsorship below.
You can choose to give by direct debit or by credit card.
Direct debit setup
Credit card